What sets K9sUnleashed apart is our specialization in the training of puppies and adolescent dogs. We have decades of experience and dedication to fostering an exemplary environment, not just for our clients but our community.
If you work with us we will work together with you as a team, to help you achieve your goals. We have all been in your shoes and have worked with trainers to help us with our own goals. You will need to follow the advice, plus do your work as suggested, so you can make the changes you desire.
This will allow you to have a puppy that goes to the bathroom outside, play with your puppy without being their personal chew toy, teach your children how to engage appropriately with the puppy to gain confident and comfortable interactions, gain a clear understanding of how to meet your dog's physical and mental needs, feel comfortable to have company come into your home or meet people on your walk without your dog jumping on them, the understanding of how to structure your day so you can successfully manage your time between the puppy and other obligations, handle your dog appropriately on a leash to walk calmly in your neighborhood, greenways/hikes, or family trips, the knowledge how to regain focus/responsiveness from your dog-- ultimately providing a harmonious relationship.
Amy has been working with dogs for more than 30 years. Her passion for working with dogs started with her job as a kennel assistant at a Veterinary Hospital as a young teen. She organized pet therapy visits to the local skilled nursing facility in her college town, and provided pet sitting services for families after college. At last, she founded K9sUnleashed, inspired by the years she spent working with the wild rescue dog she and her husband adopted, Tux. Amy prides herself on the experience and knowledge of understanding dog language and behavior to help others build a fulfilling relationship with their dog, allowing them to enjoy the lifetime of joys that adventures with your companion give.
Amy always takes opportunities to gain new knowledge by exploring new dog sports, working closely with mentors, in addition to attending retreats, workshops, and seminars to maintain certifications as well as to gain knowledge on new theories and/or practices.
Amy's natural ability to make lasting, meaningful relationships with people and dogs which has contributed to her success as an entrepreneur and professional dog trainer. She has devoted her life to making her community a safer place for the dogs and people that inhabit it.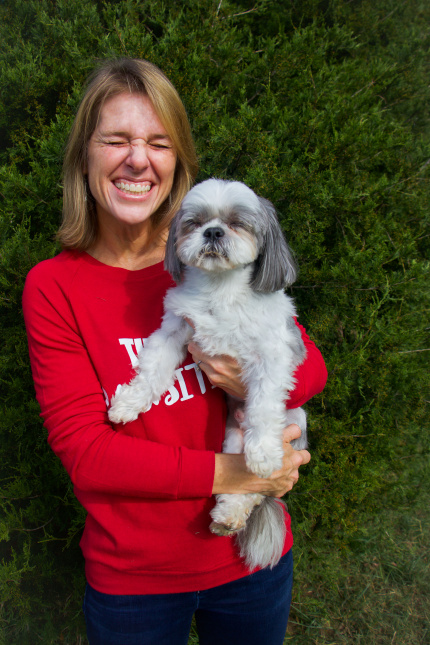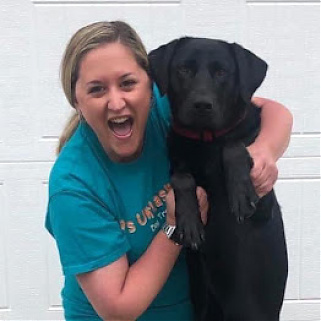 When Stacey started dog training with K9sUnleashed years ago, she never knew the powerful connection that a handler and their dog could develop.
Stacey likes to say that she is a homegrown trainer with K9sUnleashed. She and her dog, Dakota, have earned their Canine Good Citizen title, as well as the Beginner and Advanced Trick Titles. They participate in rally and agility for fun and with future goals of doing therapy work as reading buddies in schools.
Stacey is proud to have a well-mannered dog show off their tricks. She knows the time, dedication, and patience that is needed to have a well-balanced relationship. Strengthening her bond with her own dog has led her to share this passion with other dog owners. She looks forward to helping you learn ways to strengthen that bond through training.
ANNE NORED - Specialty Group Class Trainer (Rally, Scentwork, and Canine Good Citizen)
Anne is an AKC, CGC, CGCA, CGCU, and Trick dog Evaluator. Anne began fostering, training, and rehabilitating rescue Basenjis in 1998 and through that experience learned about dog behavior, clicker-training, other positive reinforcement training methods, and learning through play.
In 2010, Anne began training for competition upon the arrival of her first Newfoundland puppy. This puppy became her first therapy dog as well as her first titled dog. Anne has competed in a variety of sports including, obedience, rally, scent work, water rescue, draft (carting), and conformation. She has been teaching scent work since 2017 and loves this sport in particular for its capacity to include all types of dogs in different situations and allow them to do what is natural to them – use their nose.
Anne really enjoys introducing dogs and their owners to different sports and loves seeing the bond this type of training creates!
SYDNEY RANKIN - Maker of this Site (& Amy's Assistant)
Sydney is the person who has made the website you are on and written most of the text. She also finds it weird to write in third person about her own experiences; I met Amy more than ten years ago, first as a summer camp participant and then began working as a camp counselor after a couple of years. Fast forward to 2019 when Amy and I began working on the K9sUnleashed YouTube channel among other things. Amy insists that I looked her straight in the eyes and told her she would die if she didn't improve her online presence. I don't remember saying this, but it does sound like something I would say (lol). Long story short, I do pretty much anything Amy needs virtually, from website building to tech support for members of the puppy and adolescent program. I am thankful for the opportunities Amy has given me over the years and am proud to help present the efforts of our hard work like this website, the K9sUnleashed YouTube channel, and more.